PRODUCT DESCRIPTION

Deliver Scheduled Meals, Stop Food Stealing!
Please make sure your pet wears a collar to hold the newly designed RFID tag.
Ideally meant to portion out food for one pet in the home.
Automatically measures and serves meals in amounts and times that you set. 
Patented RFID system controls access to the food for an assigned pet within multi-pet households.
Keeps your pets healthier by controlling portions and keeping their weight under control.
Saves money by not overfeeding and avoiding expensive vet bills related to overweight pets.
Set it and forget it! No more worrying about mealtimes.
Feeds as little as 1/2 cup all the way up to 6 cups per day.
Divides the daily amount into 2, 4, and 6 meals per day for cats and 2 or 3 meals per day for dogs.
The total daily food amount can be set in 1⁄8-cup increments up from 1/2 cup to 3 cups and in ¼-cup increments from 3 cups to 6 cups.
The food bin (hopper) can hold up to 32 cups of dry kibble and has a pet-proof self locking lid. (Not for wet food)
The PortionPro Rx is designed to be used with non-irregular shaped dry food. Recommended kibble size 5/8" or less for optimal meal accuracy.
Ceramic coated steel bowl for both durability and hygiene.
Removable parts for easy cleaning.
The PortionPro Rx feeder needs at least one working tag to operate.
The new tag design incorporates an easily replaceable battery!
The RFID tags dimensions are approximately 4.6 x 3.4 x 1.4 cm.
The weight of the tag is approximately 0.65 oz.
We suggest rather than the D-ring, you use the zip-tie option to affix the tag to the collar. (This keeps the tag up and out of water bowls, and it is a more secure method of mounting the tag)
Able to set the feeder in silent mode to make the beeping stop (Please see troubleshooting page for steps).
Click here for more details regarding our Product Warranty
TECHNICAL SPECIFICATIONS

Input Voltage: 120V
Device Dimensions: 310x340x363 mm (12.2x13.4x14.3 in)
Net Weight: 3.18 kg (7 lbs)
PACKAGE INCLUDES

Tag x 1
Power Supply x 1
Food Bin and Lid x 1
Food Bowl x 1
Food Belt x 1
SHIPPING INFORMATION

To 48 United States addresses with purchases of 50$ or more. We do not offer free shipping to Canada.
RETURN POLICY

We offer a 30-day return after date of purchase!

Shipping costs on all returns are the responsibility of the pet parent.

We also proudly offer a one-year limited warranty on our product, covering any defects in materials or workmanship from the date of purchase. Should you discover any defects within this period, we will repair or replace the product free of charge. For more details, please contact our support team.
No More Food Sharing
Making Mealtime Easy
Crafted with Veterinarian Expertise
The PortionPro Rx addresses pets accessing each other's food. It allows for the pet parent to "prescribe'' precise food amounts, preventing obesity and promoting a healthier life for pets.
"If you have multiple pets and want to prevent them from eating each other's food, the PortionPro Rx feeder offers a high-tech solution."
"The Portion Pro Rx takes automatic pet feeding up a notch. This feeder uses a patented RFID system that controls when and which pet in your home can access the food in the dish. If you have a multi-pet household and one pet needs a specific diet, this is a great way to keep everyone else out of his meals."
"The Portion Pro Rx is a unique solution that employs an innovative RFID technology to control meal portions of each pet and prevent stealing. This product aims to make your pet feeding experience stress-free and simple, even with pets that have special dietary needs."
"The Portionpro RX automatic pet feeder was created to help your dogs and cat to eat properly. We have included this device to our list of the best dog smart feeders."
This veterinarian-developed smart feeding system has some great features and attributes that make it a fantastic solution to the problem of feeding individual pets in multi-pet households.
If food-stealing is a problem in your multi-pet home, an RFID feeder might be a good option.
"Despite having a single bowl, the PortionPro Rx meal scheduler is made for multiple pets. How, you ask? Well, the brand has incorporated a smart mechanism using RFID tags. This mechanism also helps in preventing obesity due to overeating."
RFID Technology
Our tags use active and patented technology to send RF signals that are then recognized by the feeder at a distance of approximately two feet. This ensures ample time for the unauthorized pet to be restricted from accessing the food. 
No More Food Sharing
No longer worry about your pets sharing food. The PortionPro Rx keeps the pet with the unauthorized tag away from the food bowl with an automatic door.
Two Different Modes
The Portion Pro Rx uses RFID technology to offer two different modes to its users!
Open Mode

In open mode, the bowl will remain in an open state. The door closes only if the pet with an unauthorized tag approaches. Once this pet leaves the door will reopen after 20 seconds to ensure they lose interest. In this mode, only the unauthorized pets need to wear a tag.

Closed Mode

In Closed mode, the bowl stays shut. When an authorized pet approaches, the door opens; once the pet leaves, it closes. If an unauthorized pet comes within two feet while another pet is eating, the door gently closes. After they leave, the door stays shut for 20 seconds.
Microchip vs RFID
32 Cup Capacity
The PortionPro Rx can hold up to 32 cups of kibble, making it suitable for even the largest pets and allowing for multiple meals to be stored inside.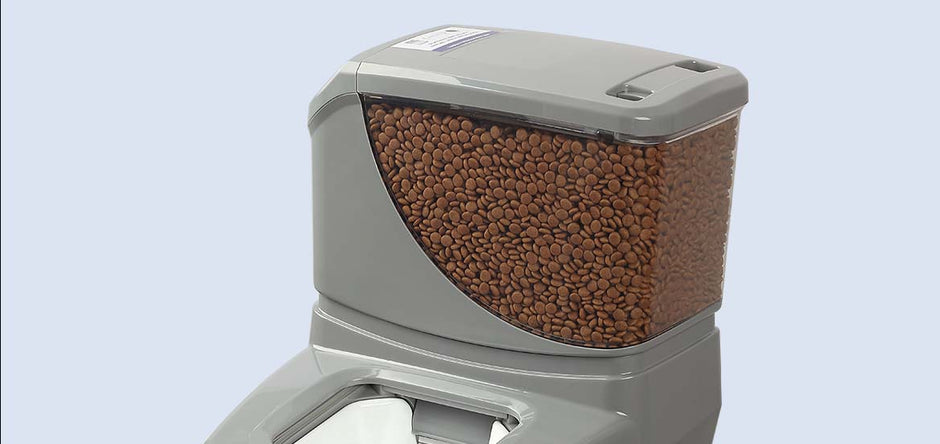 Ceramic Coated Bowl
Our pet food bowl combines the durability of steel with the hygienic properties of ceramic coating. Making it great for pets that experience chin acne!
Easy to Clean
Designed with convenience in mind, parts are easily removable to wash.
Pet Safe Access
Our doors have a soft close feature and senses when something is in the way to avoid hurting your pets.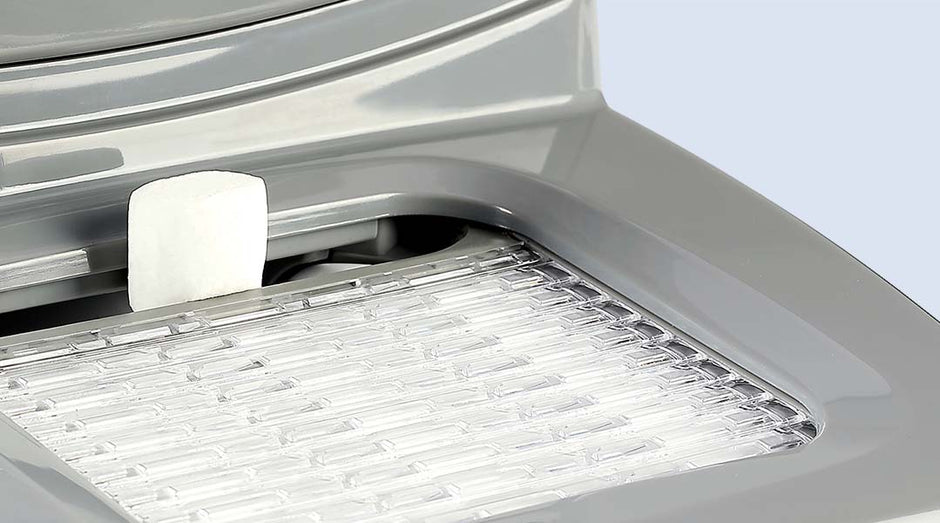 Child Proof
Children are curious! That's why we designed closed mode so when the authorized pet isn't eating, the bowl remains closed so you don't need to worry about your kids getting into things they shouldn't.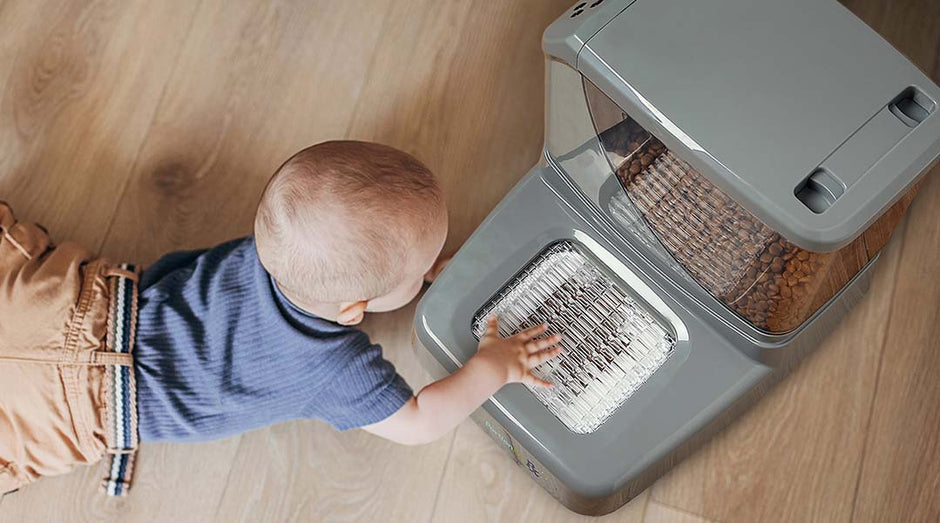 Schedule and Portion Meals
Easily schedule your pets' mealtimes while specifying the exact amount of food per meal with the PortionPro Rx.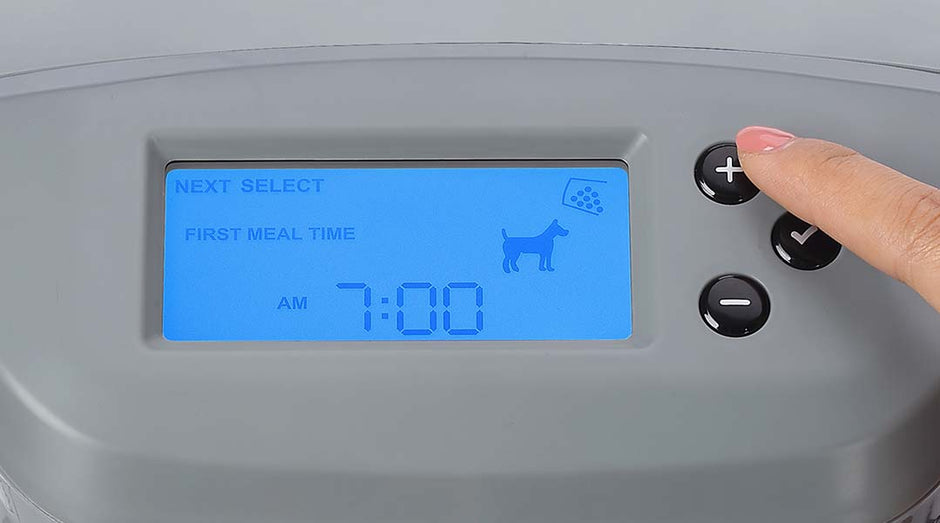 Highest Quality
We put our products through multiple quality tests to ensure they were ready for your pets.
Crush Test

Weight Test

Safety Test
Industry Professional Supporters
See what other industry professionals are saying about the PortionPro Rx.
@pawspik